Keep Your Honda Brakes Working Their Best
Honda builds great vehicles that are easy to maintain and run reliably well. All the years of reliable use that you can get from a Honda mean it will need repeated brake system service done. Our factory-trained and ASE-certified technicians at Altoona Honda can do a full brake system service. We provide factory Honda brake services in Altoona to keep yours in good, safe driving conditions. We have genuine Honda OEM brake parts when repairs are needed. That gives you the best fit and finish for your brake parts and system.
Brake Services
Brake Fluid Exchange - Brake fluid transfers and amplifies the force of your foot on the brakes to the calipers; as a hygroscopic fluid, it will absorb moisture and eventually need to be replaced as it becomes less effective.
Learn More
Brake Pad Replacement - The brake pads consist of a metal backing and a softer brake lining that is designed to wear down; when this lining gets thin, it's time to have your brake pads replaced. We can provide a replacement for either the front or rear brakes.
Learn More
Rotor Resurfacing or Replacement - The brake rotors may become glazed or warped well before they wear out; we can resurface the rotors, smoothing their surface to help you avoid paying for entirely new parts before it's necessary.

Caliper Service - The brake calipers squeeze together to push the brake pads against the brake rotors, and they will regularly need to be cleaned, lubricated, and inspected to ensure that they are providing the necessary precision.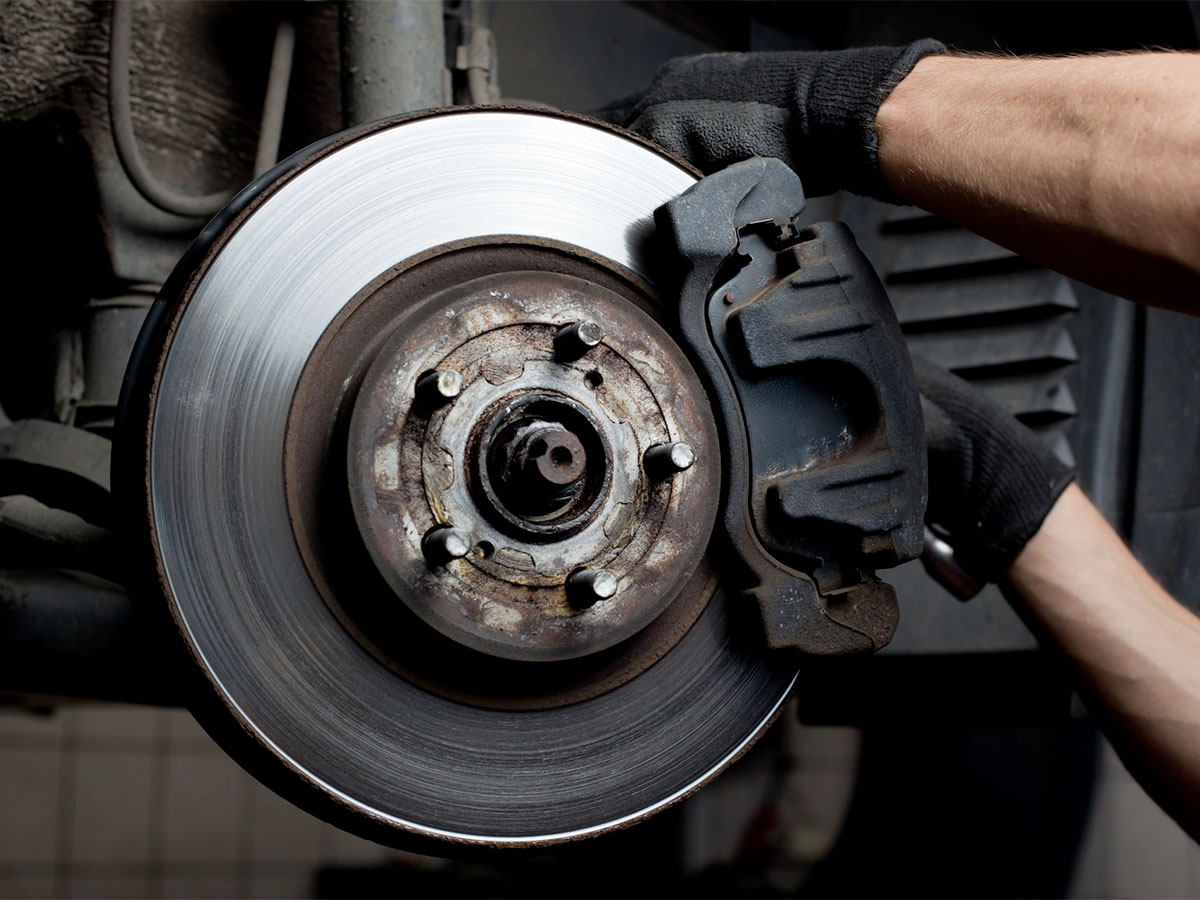 What's Included With This Service?
Our ASE-certified mechanics remove all four wheels and inspect the entire brake system. We check the brake pads, rotors, calipers, and master cylinder for good condition. Brake pads are designed to wear out over time so that the brake rotors stay in good shape. They are the brake parts that most often need replacement about every 20,000 miles.
We make sure the caliper works as designed and applies braking pressure on the rotors. We check the rotors to ensure they are smooth and within specs. If not, we either turn them to restore a smooth braking surface or replace them with new brake rotors. We also remove the old brake fluid and exchange it with new fluid. Once we bleed the brake lines, your Honda brakes give you maximum stopping power.
The Importance of the Brake System
Brakes are one of the most important systems in your car. They make sure you can keep your car under control and stop safely in traffic. The brake pads only last so long before they need replacement. If you ignore Honda brake service, your brake pads will wear out and leave you with a metal plate digging into your steel brake rotors. That can ruin the rotors and lead to complete brake failure. Brakes are easy and very affordable to maintain, and it only takes a short time to make them work perfectly.
Schedule Service
Schedule Brake Service at Altoona Honda
If your Honda's brakes are acting up or due for maintenance, give us a call. You can schedule brake system service as soon as today and ensure you have full stopping power. The service takes about an hour. While we get work done, you can relax in our customer lounge. It has free Wi-Fi, cable TV, snacks, and drinks. We also have workstations where you can get work done. A kids' play area keeps your kids entertained. You also can drop off your car and take a free shuttle to Bellwood, Hollidaysburg, and other nearby locales. We will get work done on your brakes call you when your car is ready.